МÆ ЦÆСТЫТÆМ МЫН КÆС
Vladikavkaz, 2012
Ossetian:
МÆ ЦÆСТЫТÆМ МЫН КÆС
Russian:
Смотри мне в глаза
English:
Look me in the eyes
Date:
August 8st–25th, 2012
Location:
Vladikavkaz, Republic of North Ossetia
Organization:
The VI International Art Symposium Alanica

Abstract:
Performance at the city centre. The artwork made in Vladikavkaz focuses at places where old and new structures meet; old and new habits are experienced; unique urban-landscapes.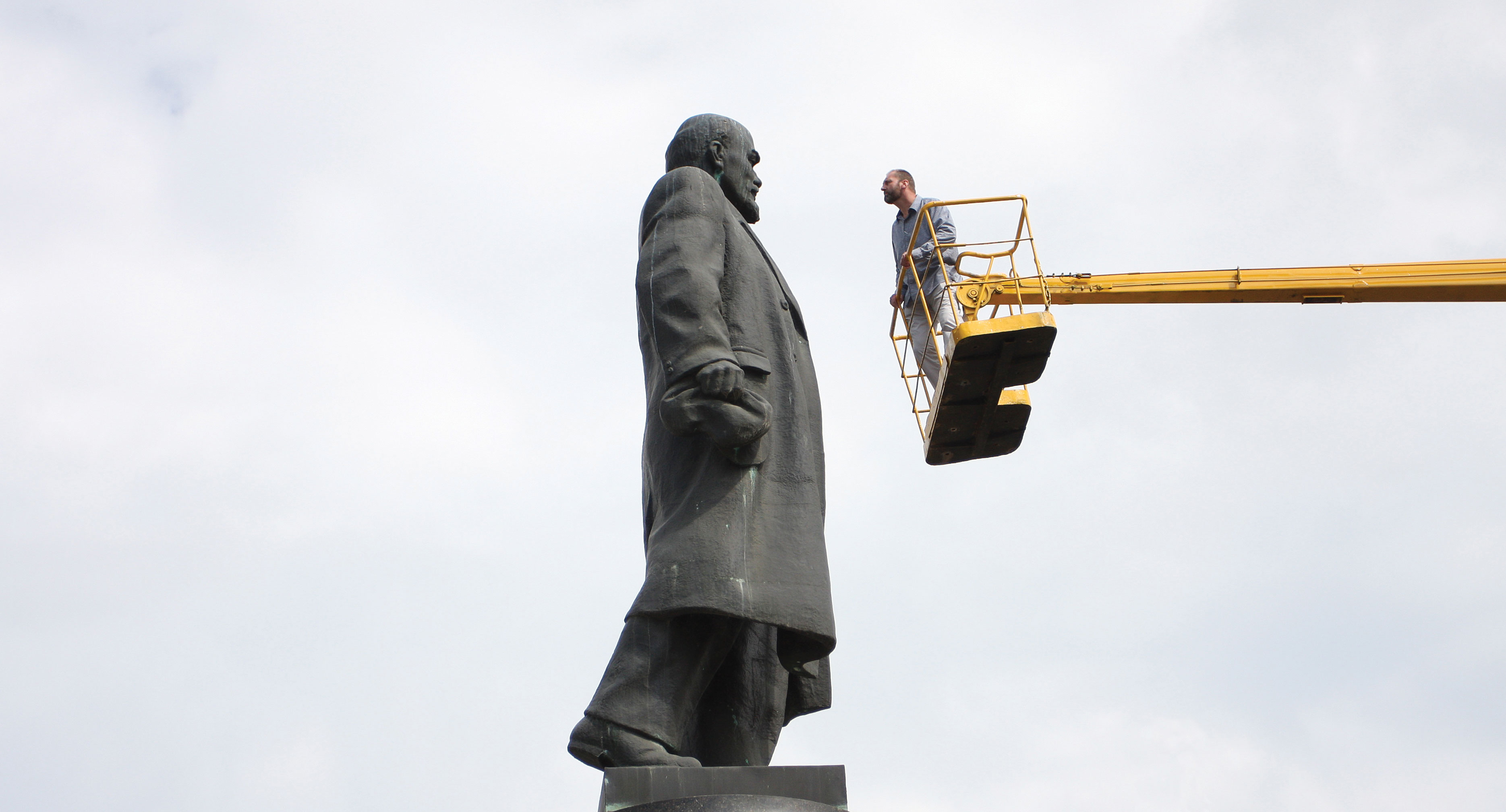 With a walk over the Mira-prospect¹¹ Old main road through the city centre, facing right on the mountain Kazbek. the wanderer is offered many different perspectives on this city. Future and history standing side by side, with the present as a small passage. The overwhelming omnipresent mountains are occasionally blocked by buildings, as if the city turns its back to them. But in the mind they're always there. Lost and found, and lost and found, and…lost and found, reassuring as a nursery rhyme.

At the main square two statues, Lenin² ² Lenin (Vladimir Ilyich Ulyanov) the revolutionary and leader of the Russian SFSR. His statue at Vladikavkaz was build in 1957 by sculptor ZI Azgur and architect G. Zakharov. In 1993, during the fall of the Soviet Union, the statue was blown up twice and subsequently restored. and Soslan.³ The sizes of both of them reminds us of the the times exaggeration was thought to be convincing. Manmade mountains of dreams, hopes and promises. What if we could look in their gigantic brains. Would we grasp some images of their history? What do we ask a child if we want to know the truth: Look me in the eyes! ³ Soslan (Сослан): superhero from the Ossetian ancient mythology, a figure similar to heroes like Achilles (Greek) or Siegfried (Norwegian). The fountain of Soslan at the Lenin square in Vladikavkaz was placed in 2007. It portrays how Soslan dances on the rim of a bowl (Нарт Сослан на чаше Уацамонга).Who would not want to try to look these giants in the eyes we were never able to look in because they always rose too high above us. But what if we rise next to them. Shall we? Dare we?

Links:
Film about the performance
NCCA Vladikavkaz
Symposium Alanica